Why is local SEO important?
50%
of all Google searches are local
78%
of local searches lead to in-store visits
28%
of local searches lead to sales
Be visible where it counts the most!
Local SEO focuses on optimizing your online presence for local search results. These come from search queries in which the search location plays a major part. When users enter the query "florist" into a search engine, they are probably looking for the nearest shop where they can buy a bouquet. If Google can determine their location, the search results will display the nearest businesses.
Local search queries normally include the location of the sought-after business. If you're going skiing in Kranjska Gora but don't have the ski gear, your search query will probably be "ski rental Kranjska Gora".
If you sell products or services from physical locations, your website has to be ready for this type of query. Good local SEO will make your company more visible to local searchers and you will be able to expand your customer base and increase sales in your physical stores!
4 reasons why local SEO is important
Would you like to use SEO to increase traffic in your physical locations? Allow us to explain why local SEO is the way to do it.
Target the right prospects
According to Google's research, half of all searches are local. Harvest the potential and reach the top of the search results with keywords that will target local searchers and lead them to your physical location.
Gain customer trust
Easy-to-access and clearly presented information on your offer and physical locations enhances the quality of the shopping experience and strengthens the trust of your customers. Don't lose business because your customers aren't sure whether they can find you.
Make in-store shopping easy
The ROPO (research online, purchase offline) effect refers to consumer behavior where customers research a product online and buy it at a physical location. Many internet users search globally but buy locally, so make sure that their search will lead them to your store.
Bring in hot leads
Users searching locally are normally highly interested in buying. They often need a product or service urgently. Help these customers find you and sell more with less effort.
Have you failed to introduce yourself properly to customers that are right under your nose?
Win locally with a comprehensive approach
In order to help local searchers find you quickly and draw more customers to your physical location, you need a solid foundation. Our experienced team can see you through all the crucial stages of this digital mission.
Local on-site SEO
Are the contact pages for your physical locations on your website serving no useful purpose? Enhance them with local keywords and helpful content to rank higher in local search results.
We can promote your physical locations with engaging local content (contact landing pages, unique introductory pages, etc.) that will integrate your online and offline sales.
Local off-site SEO
A good online reputation will take you far and beyond. You will need to have a strong online reputation to get into the highest-ranking search results for local searches easily: a high number of backlinks signals trustworthy and helpful content.
That is why we build up your local online reputation by gaining quality backlinks from websites related to your industry and location (online business directories, local online media, etc.).
Google Business Profile optimization
Google Business Profile (formerly called Google My Business) is a service that allows you to list essential information about your business (your offer, opening hours, contact info, etc.) and company location (address, map, accessibility info, parking options, etc.) online in Google search results and Google Maps. A neat and well-optimized Google Business profile is not only user-friendly, but also more likely to be served to searchers by Google, particularly in rich results under Google Places, which appear in organic search results and display Google's top three suggestions for the most relevant local businesses.
Make the best of local SEO and let us help you rank higher in local Google search results!
Sounds like a lot of work? With our help, it can be done easily!
Leave local SEO to the experts
We were among the pioneers of digital optimization on the Slovenian market and we are laying the groundwork for local SEO as well.
We are sure to find the right solution for you in the wide range of services we offer, regardless of whether you are looking for someone who will bring local searchers to your doorstep or simply need someone to guide you through the process.
On-site local SEO
• Do you know which local search queries refer to your products or services? We do!
• Are you sure that your local content subpages are sufficiently optimized? Let's check together.
• Struggling with how to enhance your local subpages? We can prepare a comprehensive local SEO content strategy for you.
• Do you want more local content, but are having difficulties creating it? Let our creative team handle it.
Off-site local SEO
• Are you wondering whether your current backlinks are helping or harming your website? Let our experts analyze them.
• Would you like to know how efficient your backlinks are compared with your local competitors? Let's find out together.
• Would you like to get more local backlinks but don't know where to start? We can devise a strategy that will grease the wheels.
Google Business Profile
• Have you equipped your Google Business Profile with everything it needs to succeed? Our digital trend-spotters can answer that question.
• Not sure how to optimize your profile (particularly if you have multiple physical locations)? We'd be happy to take on the task.
• Would you like to enhance your profile with extra content? We know just how to do it.
Is that all? By no means.
We keep up with the updates of the Google search algorithm, so we can alert you of any changes that could impact your local online presence at once.
Are you even more resolved to improve the visibility of your website for local inquiries?
How does local SEO work with voice search?
Have no fear, our eyes are focused on the future. Slovenian is already recognized by Google's in-browser voice search; in the future, other popular virtual assistants will too: Google Assistant, Apple's Siri and Amazon's Alexa.
Voice search is gaining popularity worldwide: 20% of searches are by voice and 60% of voice searchers use the option for local queries. Voice search optimization is therefore crucial for business success in the digital as well as physical sphere.
We can help you stay on top of new developments and make sure your website is ready for voice search today.
Is your website sufficiently optimized for local searches?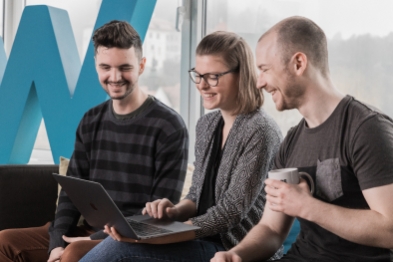 To communicate the turning points in online trading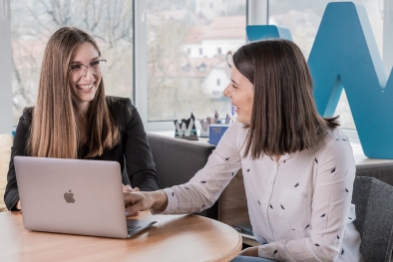 For high-quality website optimization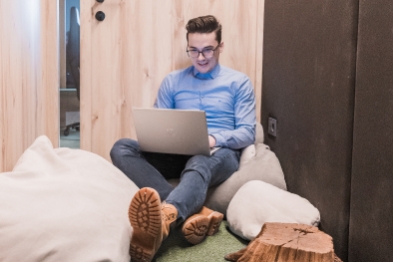 Frequently asked questions
Why is local SEO so important for in-store sales?
Good local SEO will adjust your online presence to suit local inquiries, making it easier for customers browsing for a product or service in a specific location to find your company. This will grow your prospect base and increase in-store visits, boosting your sales in the process.
What is the difference between local and traditional SEO?
Much like traditional SEO, local SEO is all about making your website more visible in search results. With local SEO, however, the website and all related online content (e.g. Google Business Profile) is optimized for local queries. This means that we target searchers who are looking for products or services in a specific location. Our goal then is not only to increase organic traffic to your website, but to make sure, above all, that your stores are discovered and visited by as many internet users as possible.
What are the key success factors for local SEO?

Local SEO covers three main areas:
On-site local SEO: setting up and optimizing the landing subpages connected with your physical locations,
Off-site local SEO: obtaining high-quality backlinks from websites related to your field and industry,
Google Business Profile optimization: managing your main profile and the profiles of individual businesses (business and contact information, keywords, etc.)
Why is an optimized Google Business Profile so vital?
A Google Business Profile gives searchers quick access to key information on your stores (your offer, opening hours, phone number, e-mail address), making it easier for them to find or contact you. Google responds to local queries with so-called rich results, offering recommendations for the best companies to turn to given the user's location. Since these appear above organic search results, it is all the more crucial for your company profile to rank high and be as visible as possible.
What is working with Optiweb on local SEO like?
Our first order of business for clients who want to improve the visibility of their website in local searches is to analyze the current state of affairs, exposing the strengths and weaknesses of their website in order to lay a course for local SEO. We follow it up with an overview of the work and service that will be required based on your needs and goals. We can be your consultants, service providers, or anything in between.