First steps into the world of Magento
Back in 2009, I, an aspiring programmer, came into my first contact with the system Magento, which is one of the leading online platforms in the field of online stores. Because of its complexity this beast captivated me from the very start; Magento is enormous and efficient, but at the same time extremely clear and logical. At that time its only weakness was the fact that documentation for developers was scarce or practically non-existent. Nevertheless, the Magento community was powerful and closely connected already in that time, with a very active forum where I was an active participant and where my numerous questions were answered.
By mere chance I came across the blog inchoo.net, which soon became a part of my required reading. I was constantly refreshing the page, impatiently waiting for new posts. I was delighted by all the problems and even more so by all the smart solutions described by their programmers. Those were my first steps of my professional career on which I still walk today. With the help of this forum my knowledge about Magento was getting wider, new versions of the system were being released, the documentation was getting more detailed, and the Inchoo blog was among my main sources of knowledge, some sort of "holy grail" of all the information about Magento.
A role model from the very start
The team of Optiweb programmers at first consisted of three members, who were slowly but persistently making their way into the market of Magento projects. Since this field was extremely interesting and attractive to us, we gained new knowledge and improved ourselves on a daily basis.
In April 2016, there was a Magento conference Developers Paradise in Opatija, organized by no other than the company Inchoo. This was the first major event in our vicinity, which meant that the participation was mandatory for the entire Optiweb's Magento team. On the way there we were all full of excitement and pleasant expectation, because we knew that we will soon be surrounded with numerous Magento experts. I admit that we were also a bit nervous since the entire conference was based on the new version, Magento 2, and we did not have a single online store made with this version. To our relief we soon found out that the other companies also had little experience with the new version and were facing the same scruples we were.
Excellent lectures by the most important names from the Magento world, relaxed conversations with the visitors, and the positive energy of the Inchoo team turned the conference into a special and unforgettable event.
When we left the conference, the entire team was filled with fresh verve and new ideas and plans on how to improve ourselves and later on we also achieved most of those goals.
This September I was scrolling Inchoo's blog and saw the following post: We moved to a new office. Finally!. Excited by the photographs of their new office, I suggested to my colleague Rok that he set up a meeting with them. I was especially fascinated by the fact that the design of the office space was very similar to ours. The point of the design is that people who work there feel good, which results in higher productivity. Soon the team Inchoo left us a positive response and it even turned out that we will spend two days in Osijek. While we were finalizing the last details on the day before arrival I – quite ironically – found the solution to a smaller problem right on Inchoo's blog.
A company culture similar to ours
The day of the visit has finally arrived. The CEO Tomislav was an amazing host, he was already helpful when we were trying to find a parking spot. In the office of the company we were greeted by Dunja (Office Manager) and Želimir (Sales Representative), who showed us around the office. My first impression was as expected; excellent layout, crazy furniture, and a feeling of familiarity and comfort. I was excited to see that they have spent a lot of time focusing on details and that each and every one of those details was there with a purpose.
Checkout their new offices below:
Enormous windows make sure that the office is bright and they offer a view on the terrace, while the glass wall offers the view of the hallway. There are six people in each office. Closed offices guarantee greater concentration and less distractions that could potentially disrupt the work. There is a calming quietness with soft music playing in the background. Another characteristic of their offices is that they are named after smaller cities from all around the world. One of the empty offices was even named "Škofja Loka" for a while, which we thought was extremely cool.
After the tour, Tomislav and Toni (eCommerce Consultant) presented their company and their growth through the years.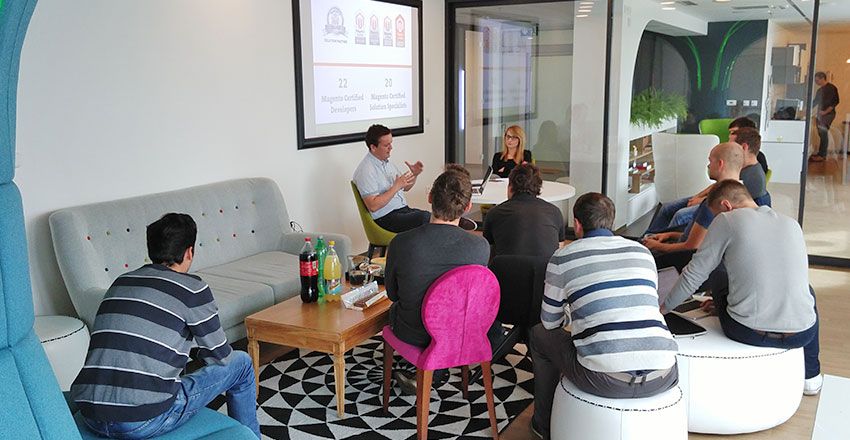 Tomislav also presented their project Osijek Software City, which completely overwhelmed us.
Later on we went for a tasty lunch to the near-by restaurant with Želimir, Nandin (Office Manager), and Ivan (Technical Educator and Consultant). We especially enjoyed the prosciutto which we had as an appetizer. :D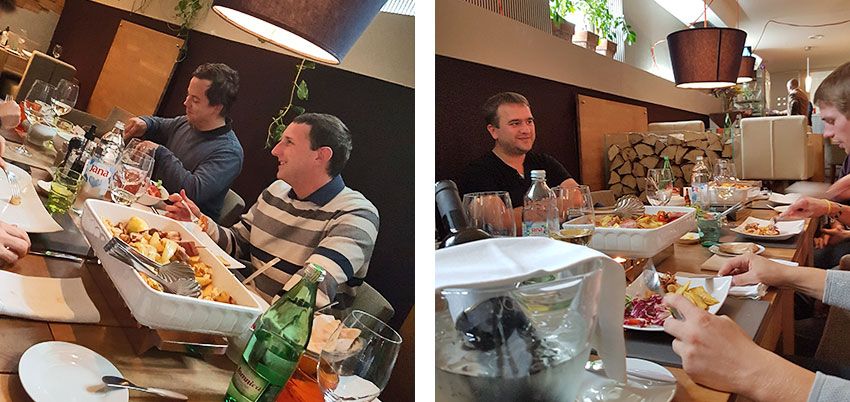 Later in the afternoon, Zrinka (Event Coordinator) took us out for a beer (or maybe two or three :)) in the local pub. She told us more about her work and we were especially interested in her contribution to the project Osijek Software City.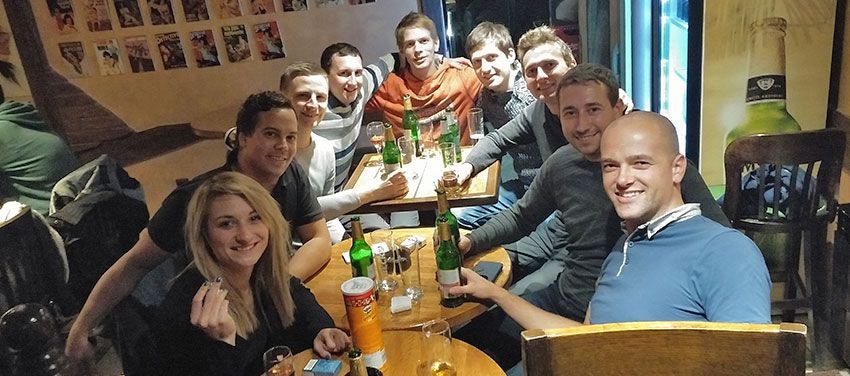 When it got dark we had dinner in the old part of town (Tvrđa) with Tomislav and Želimir. Once again we experienced fine dining and relaxed conversations while we shared our experiences and interesting business anecdotes.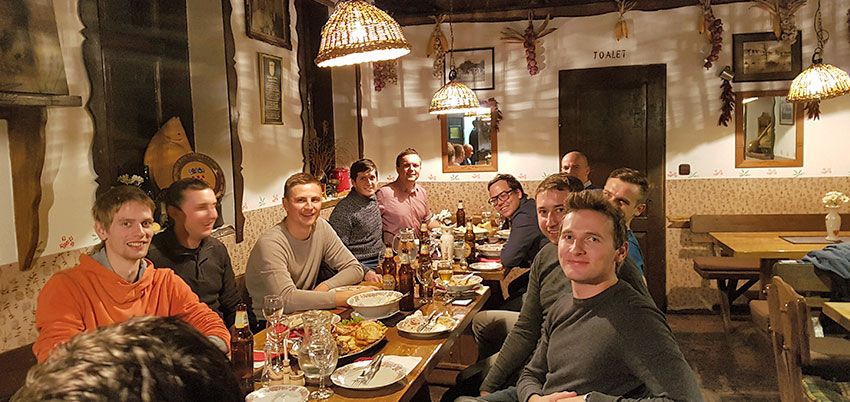 The next day, a part of the team went back home and the rest of us spent the day with Ivan and Hrvoj (Team Leader, Frontend Developer, Designer / Illustrator) exchanging knowledge about frontend as well as backend programming. As a fun fact I would like to mention that frontend developers use the operating system OSX while backend developers use Linux. Later that evening, when we were pleasantly fatigued and full of impressions, we set up new goals that we want to achieve as a team.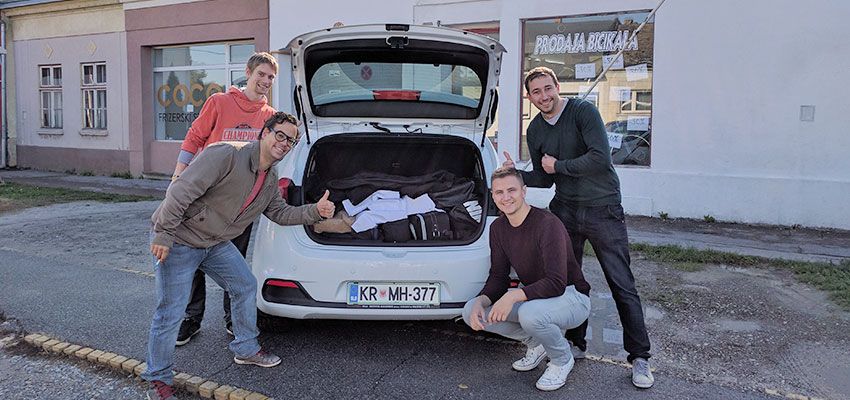 Upon departure we were pleasantly surprised by Želimir and Ivan, who brought gifts we could barely fit in our car. :) 
A vision is of vital importance
While visiting Inchoo I was most fascinated by the fact that every member of the team possesses in-depth knowledge of the Magento system. I was pleasantly surprised by the conversation about controllers among our backend developer Janez and their Sales Representatives Želimir. Every member of the team has at least one Magento certificate (including the Sales Representatives and Marketing) which proves that the entire team takes their business very seriously and that every member of the team knows a lot about the main service they provide.
It was also a real pleasure to talk with the experts from this field, because they had an answer to every technical question we posed. This knowledge can be seen in extreme quality of all completed projects. Tomislav mentioned on more than one occasion that they strive for technical exellence of the final product and I must say that so far they have done an amazing job.
I was also intrigued by their method of employment. Every new member must first pass a learning process that lasts from 3 to 5 weeks where they learn the characteristics, tricks, and traps of Magento under the mentorship of Ivan. Before they even start with the coding they must gain theoretical knowledge and must therefore read two books; Magento Extension Development and Magento Layouts.
Our Magento team came back from the training with fresh energy, incredible impressions, and a wish to realize our new long-term and short-term goals.
We are excited about the fact that in spring we can exchange our knowledge once again at the Meet Magento Croatia conference in Osijek. Until then we will bravely face new challenges and, thanks to the Inchoo team, we believe we will be able to cope with each and every one of them.
[IMPORTANT NEWS] #RealMagento crew, we're bringing @meetmagento to Croatia in 2017! Stay tuned for more updates on #MM17HR ;) pic.twitter.com/LrhBVSt1Mz

— Inchoo (@inchoo) November 14, 2016
Be the first one to hear about the latest digital trends and case studies.
Write down your email address below!