Although we already cooperate with some international clients, our goal is to significantly increase the percentage. And one of the "must haves" when entering a foreign market is, of course, to fluently speak English. We all speak English, but because we are not using it daily, it can become a little rusty. And since our "English Tuesdays" did not work out well, we decided to start with international internships.
The three main reasons why we decided for an international internship:
Spreading the horizon: we believe that curiosity and openness to different things bring a lot of new knowledge and help us grow both professionally and personally.
Training our English: although we organize courses for business English and our work literature is almost exclusively in English, the development of language skill is much faster and certain if you have to speak it on a daily basis.
Additional knowledge: we were looking for someone who could professionally help us achieve our goals.
After a few Skype interviews, successfully completed practical tasks, and arranging the necessary administration, we were ready to meet our new colleague. Vilius, from Lithuania, joined us in October. Before going back home, we did an interview to ask him about his experience here in Optiweb and Slovenia in general.
Vilius, hi!
Tell us something about yourself.
Hello! Well, my name has already been introduced, so I'll skip that part. No, I'm just kidding! My name is Vilius! I'm a web developer whose job is also his hobby. Since I am a Lithuanian guy, I love playing basketball in my spare time or at least watching it (if you're wondering about my favorite team, it's, of course, Kaunas "Žalgiris"). Besides basketball, I also have a passion for traveling and tasting new dishes.
Why did you decide to get an internship in Optiweb?
To be honest, I was surfing the net, looking for an internship and accidentally found an advertisement from Optiweb. Then, of course, I read about your company, saw a couple of videos and was hooked. The atmosphere here is brilliant, the colleagues are very friendly and kind, employees are always involved in some kind of activity. And I had an opportunity to become a part of it, to be the first foreign co-worker in Optiweb. So the choice was very easy!
What were your initial feelings when you started the internship? What surprised you the most (in a positive or negative way)?
I remember I was really excited, everything was new to me: the place where I got to live, the people around me, the colleagues – even the coffee machine!
This is my first full-time job in the IT field, I knew nothing about working all day in the office. Honestly, because I'm used to freelancing, I thought at some point I'll feel stuck and bored here. But that is just impossible.
Describe your typical day in Optiweb.
Typically, my day in Optiweb begins with a cup of coffee and "pizza štručka". Later, our team has a daily meeting, which is quite awesome. We talk about what we have done so far, what we're planning to do and we discuss any possible issues. After that, we start working – the keyboard is our best friend until lunch.
Mostly we go and get sandwiches from "Trava". Working there is a very funny lady, but that's a different story! When we get back, we continue saving the world with our keyboards. And, of course, I forgot to mention all the short coffee breaks, talks, and games.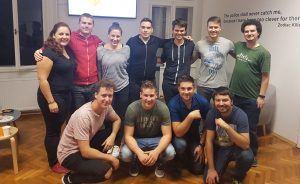 Vilius and his team in Optiweb.
What about your co-workers? Do you have any anecdotes to share? :)
They're very nice and funny people! Hah, yes, I do have an anecdote. There is this one guy in the office who prefers cool weather and is always hot. He always makes jokes that he could wear only his trunks because it's so hot. So, before we go to lunch, we first take a look at what clothes he's bringing with him. If he brings a sweater, we are sure we have to take our jackets. He's like our thermometer!
What part of the internship did you like the most?
It may sound like I'm romanticizing it, but I'm not: I loved every minute I've spent in Slovenia!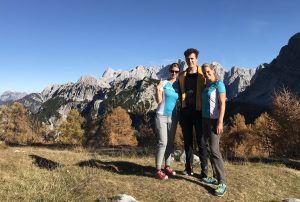 One weekend, we took the advantage of the sunny weather and headed to Slemenova špica.
What is the most important thing you've learned
             Regarding web development
             About yourself
             About living in Slovenia/Škofja Loka?
I've learned that a satisfied client = a happy project manager = a happy designer = an alive developer, that cross-browser compatibility does matter, that you have to communicate with your client and so many other things!
What I've learned about myself is that I'm having the best time when I'm out of my comfort zone.
I think I could say that I've learned more about the Slovenian culture than about living in Slovenia. When you're talking about culture – everything is important.
What was the funniest thing that happened to you during these months?
During these months I've had many funny moments! But one of the most memorable is Blatfejst. It's an event where you run through obstacles in the mud. I wasn't competing, but I did try one obstacle… Simply amazing!
When you think about Optiweb, your first association is?
The swing behind my back and a warm feeling in general.
Which drink and food did you enjoy the most?
Schnapps with lemon and sugar, for sure! In the last week, I tried "kremšnita" and I can honestly say it's the most appetizing cream cake I've ever tasted.
Would you like to add anything else?
I would like to thank everyone in Optiweb for accepting me as a part of the team! I had a wonderful time!
Your internship in one sentence?
Just wow!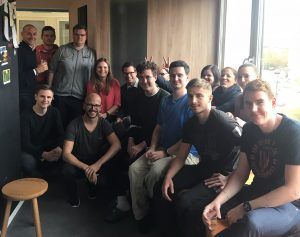 A group shot!
And what can we say about this internship? This internship met all our expectations. We are so excited that we are already searching for new international students!
Vilius, thank you for becoming a part of our story, it was great having you here. :) Stay awesome!